A FOND FAREWELL. . .
Please join us on Wednesday, January 16, 2019 to wish our past president, Gary Porrett, a fond farewell.  Gary has generously led the HLA for the past 20 years.  He has sold his home and will be moving out of the area.  We will meet at MD's (3040 N. State Road, Davison, MI) from 7:00 – 10:00 pm.  Pizza, salad, and breadsticks will be provided.  Cash bar for those who so desire.  Please let us know if you plan to attend, so we can plan for enough space and food.  Send an email to Julie Brandon at minutia55@charter.net with your RSVP.  Please join us in celebrating Gary and wishing him a wonderful future!
HELP NEEDED!
The HLA is still in need of someone to take over the membership duties.  The job consists of sending out notices and decals once a year.  HLA pays for supplies and postage!  If you are interested, PLEASE contact Julie Brandon at minutia55@charter.net.
2019 Ice Break-Up Challenge
Our association is again giving away $50 worth of Michigan Lottery tickets to the person who correctly predicts the date of the 2019 Ice Break-up. That date is determined by the day that a weighted traffic cone falls through the ice in front of my home.
As the attached photo shows I can't get onto the ice yet. But you can still submit your guess. All guesses must be received by 1-31-19.
Submit your date to Billbrandon@charter.net. I will be posting a photo of the cone once I get it set-up. A drawing will decide if duplicate winners. One winner only. One guess per person. The winner and their guest will also be treated to a free dinner at our May 2019 Board Meeting.
You have nothing to lose and we might make you a millionaire.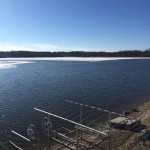 ICE SAFETY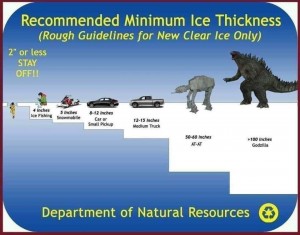 Just a reminder to all our local fishermen/women. . . with the wide fluctuation in temperatures, it would be wise to check the ice depths in the area you were planning on fishing in before you set up. Also, just because someone says it's safe on their lake or section of water, be smart and do your own testing and ALWAYS have a cellphone available in case of emergencies.
PICTURE OF THE WEEK
Photo by Jayne Harasim
The Holloway Lake Association Protects your Reservoir
Through regularly scheduled meetings and newsletters, the Holloway Lake Association keeps concerned citizens informed and in touch.  Please support these efforts by becoming a member of the Holloway Lake Association. Together we can make a difference!
The Holloway Reservoir needs your help to remain Genesee County's precious recreational area.
HELP US PRESERVE HOLLOWAY!  JOIN THE HOLLOWAY LAKE ASSOCIATION!
Issues we are working on:

The Water – predictable levels and good quality
The Regulatory Agencies – boating safety
The Environment – industrial and other pollution
Shoreline Erosion
Parkland Preservation
Richfield Landfill issues
Boating, Fishing, Swimming, Camping, Picnicing or Hiking along the reservoir
Holloway Today: Challenges and Changes
Shoreline Erosion:  Shoreline erosion, which is greatly exacerbated by high speed boating, waves, and sandy soil, has been identified as a concern.  Picturesque Goose Point becomes narrower each year. Trees have tipped over into the water in many areas.  As a result, the Reservoir is becoming increasingly wider. What will it look like in 50 years?
Water Levels: There are many demands on the waters of Holloway. The City of Flint requires constant flow for sanitation plants. Down-river recreational users call for increased summertime flow. In the dry summer months, low water levels on Holloway harm recreation, wildlife and the ecosystem of the water.
Environmental Concerns: The potential impact of The Richfield Landfill on Holloway Reservoir and its surroundings demands activism by the public to insure a safe environment and to maintain the natural beauty of the area.
The increase in the numbers of seagulls requires efforts to control them in order to prevent the damage they cause to property and their contamination of the water.
Regulatory Intrusion: The Holloway Reservoir is heavily regulated by Government, and citizen activism is required to balance the competing interests of the environmental, industrial and recreational communities.
We have been given permission by Nate Harasim to use his song "Holloway Cruise" on our website.  Nate was just a young teenager when he wrote this song while sitting on his dock in Zone 4.  It is simply beautiful!  Make sure you have your speakers on!
Click below to hear Nate's song